Geometric shapes in Home Decor are not new but they have been on the comeback for a couple of years. They have never been hotter than right now!  The facets, angles, points and contrasting colors of Geometric Home Decor make it perfect for adding interest, depth, texture and excitement to your design. The style you want to achieve can be dictated by the colors you choose for your Geometric Home Decor. Subtle, natural colors are more suited to A Contemporary feel while Bright Bold Colors are reminiscent of Mid Century Design and Neutrals such as Black and White add a more Modern feel to your Decor.
Geometric Home Decor
Geometric Home Decor can come in many forms. The clean lines can be very sophisticated while the bright colors are lively, hip and playful. Geometric shapes are energizing and a great way to update your decor.
Nuloom Contemporary Geometric Triangle Rug, Overstock 8 x 10, $232.25
Be careful of adding too many Geometric patterns. a little goes a long way at perking up a room. Too much can become chaotic. Geometric patterns can look modern, retro or thoroughly traditional, depending on their style, color and design. And they can range from the subtle to ultra bold in look.
Hand tufted Beecher Contemporary rug, Overstock.com $87.99 and up
Sometimes a little goes a long way with bold geometric patterns.
If you are looking for an easy, low-key approach to adding geometric decor, start small. Throw pillows, planters, or hardware updates will step your space up a notch.
Round Geometric star mirror, Target $21.24
Max Brass sculpture, CB2, $9.95-$29.95
Prisma Brass catchall, CB2, $14.95
Geometric Candlestick Pendant Light, CB2 $69.95
Nate Berkus Brass Hexagon End Table, Target, $110.49
Nate Berkus geometric Gold Bathroom Mirror, Target, $19.95
Add geometric shapes and patterns to your decor with these home elements:
Table tops and table bases
Rugs and carpeting
Wallpaper and draperies
Upholstery fabric
Tile and wood flooring
Bed and table linens
Light fixtures
Painted wall stencils
Throw Pillows
Marble & Wood Geometric Objects, West Elm, $39-$49
Faceted Geometric Terrariums, West Elm, $29-$44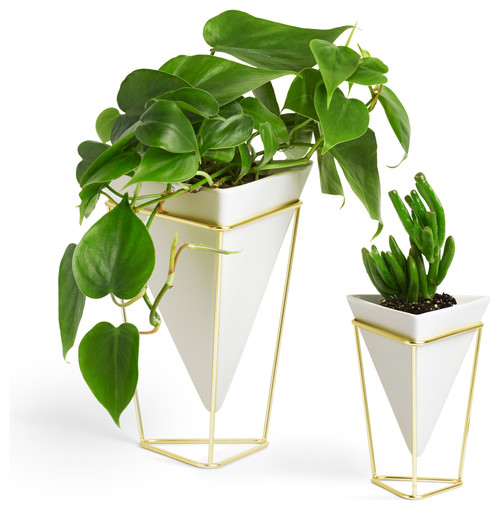 Kate and Laurel Felicia Metal Mirrored Ornate Decorative Trays (Set of 2), Gold Leaf Finish, Amazon $53.23 (link below post)
Umbra Prism Wall Mirror, Amazon $79.00 (link below post)
Spectacular Ceramic white Table Lamp, Overstock $72.49
Gold City Graphic Geometric Wall Art, All Modern $42.99 
Modern Brief Blackout Green and Blue Geometric Curtain, Curtainsmarket, $29.99
Greer Throw Pillow, Wayfair, $36.99
I hope you found some ideas and Inspirations in this Post to take the leap and add some of these fabulous earthy, hip and Interesting Geometric shapes and patterns to your decor! Grab some of these #FrugalFabFinds in Geometric Home Decor to get you started!
See ya soon!
Jeannee
Check out more Hot right Now Decor here
Pin This!